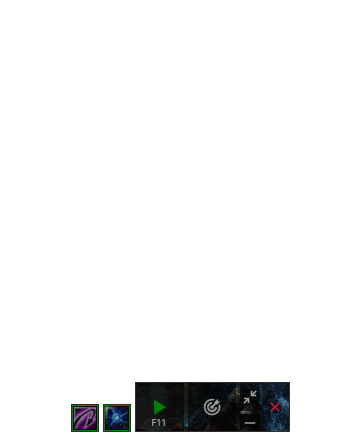 Let's meet your best gameplay assistant, kozymacro. The Knight Online farming and PK have never been easiest like that.

It is secure. Does not contain any illegal software.

Does not require much configuration. It works with just one start/stop button.

Made with love and developed by experienced developers.

It is friend of your computer with using too low cpu and memory resources. (%0.01 cpu - 42mb ram)

Kozymacro has a detailed image and video tutorials.
Pricing
Your payments will be processed by the secure stripe payment solutions.
Activation code will be sent to your email address.
Get Special Download Link!
Are you worrying about getting caught by Knight server's scanning?
Buy Special Download Link (1

$

)
(YOU SHOULD BUY ACTIVATION CODE)
By using the kozymacro that created just for you, stay safer against the scans of the server you are playing.
When you buy your own kozymacro, the latest version available is compiled with a unique name and the download link is sent to your e-mail address.
Updates
30.10.2021 - Fixed, stopping attack problem at low monster HP.

29.10.2021 - Fixed, using HP/MP.

17.10.2021 - Released, v2.4.8.

Bug fix. Note: You can remove old versions of kozy from your computer.

14.09.2021 - Released, v2.4.7!

14.08.2021 - Added, milliseconds input to the skills like nova, meteor etc.

14.08.2021 - Added, mage 62 and 83 skills.

16.05.2021 - Added, skill images, sprint for priest and mage. Adjusted, archer skill periods.

16.05.2021 - Added, new mage skill icons. Fixed, mouse movements for the mage field effect skills.

16.05.2021 - Added, new key bindings(Numpad, shift, caps lock etc.). Fixed, lock button on the assassin skill bar.

12.05.2021 - Adjusted, priest skill timings. Updated, some skill images. Fixed, party member heal.

09.05.2021

-

Added:

Bazı Rise Online skill görselleri.

Fixed: wolf, buff-ac and priest red book times. Detecting 7th and 8th party members.

Removed: Video mode. (Rise can work on background. However, make sure HP/MP bar is visible on the screen.)

04.05.2021

- 2.4.5 version is officially released!

Added: Multiple monster selection, sit when idle, parasite, torment, massive, berserk echo, run while key pressed for all combo, ability to change the start/stop key, ability to move main window, ability to minify kozy as tray icon, optional S count for mage's field effect skills.

Fixed: Attack problem on monster selection, TS timing.

Removed: Myko skins and friend code.

Performance improvements.

02.05.2021 - Download option added to download for Rise Online.
Frequently Asked Questions
Are there any video guides?
Yes, to watch, click here. Also, you can find many image guide link above.
Do I get banned?
Kozy is %100 pure macro. It is not more insecure than the any other macro. Pay attention to the macro sanctions of the server you are playing.
Can I use same activation key on more than one PC at the same time?
No, you can use your activation key anywhere, any time but not at the same time. You should buy new keys to use kozy on multiple PCs at the same time.
Does it work for all client types?
Myko, PVP, USKO, KoreaKO, 21xx, 1299, 1098 so designed for working every client types.
Does it work on Rise Online?
Yes, use the link "Download for Rise Online" on download section.
Does it work for multi client?
No, macro programs can only run on active window.
Does it work with window mode?
Yes.
Is there auto loot?
No, you can use pet for looting.
What are the features of macro?

Buff

ac,

heal,

malice, torment, parazit, massive,

party buff, party ac,

group heal for priest. It can use str and red book for BP priest farming.
---

Wolf,

def 200,

def 400, def 800,

minor,


3-5 arrows combo for rogue.

Asas combo
for assassins.
---

PVP style queue
,
berserk echo
and
battle cry
for warrior.
---

Staff combo
and the skills like

nova/meteor
etc. can be used.
---

auto attack,

magic hummer, TS and

HP

MP potions for every type of character. With

smart HP/MP ability, can use potions during pk. You can watch the

TV movies when macro is running.
GM protection
can be activated.
Flood
on merchant. It is possible to
attack for only selected monster
. It can send
discord notifications
about the party and hp/mp status.

It can automatically store items on
VIP storage
. Your character can sit when idle.
HP/MP doesn't work correctly. What should I do?
Exit from the kozy program. Open it again. Make your HP and MP full. Rotate the game screen to align your HP/MP bar to anywere else that has no any red or blue background. For example: red sky. Now, start the macro.
Which functionalities are available during PK?
You can use Minor, 3-5 archer combo, atak combo, staff combo, asas combo and smart HP/MP during PK.
What is the Smart HP/MP?
Saves you the trouble of using potions during PK. The functionality that make this smartly and without any latency. Even, you can make vs. Priests can focus to using db or heal, archer, mage and warrior can focus the making attack. Makes it possible to put your potions to 7-8th order to your skill bar than you can use how you want the first rows of skill bar. How to use?
Can I watch TV movies when kozy macro is running?
Yes, absolutely. Press Ctrl+F11 when the video behind the game and the kozy macro is running. Now, you will be able to watch movies. Press Ctrl+F11 again to activate game.
Can I know the party and hp/mp status when I AFK?
Discord notifications! Kozymacro can send discord notifications for that. How to configure?
Is there any way to feeding pet?
Yes! Just, activate the pet feeding on setting window. Also you can set the period by using field on the next area. Make sure you locate the feed to the top-rigt corner of your inventory.
My Character is moving when feeding the pet. How can I fix it?
It is Knight Online bug that happen when the clicking the "Confirm" button. Just, drag and drop the pet hp/mp window to behind of the confirm button.
Is there any way to protect from GM teleports?
Yes, but only for USKO. How to configure?
Is there any way to press some keys automatically?
Yes, follow the guide.